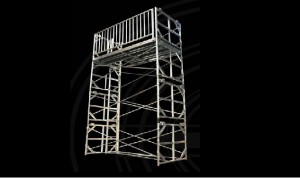 Need your stage at a height that is not your typical standard height? No need to worry. Call Stage CMDR today and ask if we can build to the required height you are seeking.
We have stock pipe legs in the following lengths: 6″, 8″, 9″, 12″, 16″, 18″, 24″, 30″, and 36″. If you don't see a length, that's ok. We custom cut legs for special projects and we have adjustable pipe legs to make odd size heights that are not our stock lengths. For projects where ceiling height is limited, being able to adjust height fast and easy is key!
Our structure walls are in the following heights: 2′, 3′, 4′, & 5′. We can piece them all together to essentially make any height. If you want your stage at 25′ high or a platform for a spot tower or camera crew at 35′ high or even 50′ high, we will facilitate that.
In addition to just about any height, we also provide stages at any size or configuration. Need a small stage that is only 12×8 or a large stage that is 104×100, no problem! Call Stage CMDR as we are staging specialists to provide any height, any size, anywhere on the West Coast & abroad.