The Commander 32 - 32x24 MOBILE TRAILER STAGE
Introducing the newest, latest and greatest, innovative product addition to Stage CMDR's rental arsenal for 2015. The 32×24 "Commander 32" Mobile Trailer Stage. This is a basic mobile trailer stage that gives the client not only a shaded load bearing roof for lighting, but also a mobile stage that sets up and strikes down, fast and efficiently. The number 1 feature of this trailer stage that is unlike any other mobile trailer stage out on the market is, it works in conjunction with every piece of staging equipment that Stage CMDR has available in its rental inventory. From hands rails, all stage deck types and sizes, stairs, to skirting and any stage design concept. Clients now have the option to customize to their liking.
If you need additional stage thrusts, loading docks or ramps, extended catwalks, sound wings, or simply want to make the stage bigger for example, to a 40×40 or a 50×40, everything connects together just as it would if you were building a stage set with out the mobile stage. Unlike other mobile stages where if you need additional decking, the crews struggle to connect or bridge up to the trailer stage because of use of two different products. This trailer stage was designed to illuminate that very problem.
Although this stage does not have extension wings to hoist up audio speakers, new also for 2015 are, our the Commander Line Array Towers. These towers are self erecting and are appox 22′ tall. You also have the choice of building ground support truss structures with the Commander Truss Bolting Ballast Blocks to hoist up video walls or larger sound systems.
Now you can call Stage CMDR for everything from the mobile stage, crowd barricade, additional decking, FOH structures/stages, spot towers, and line array towers for the mobile stage.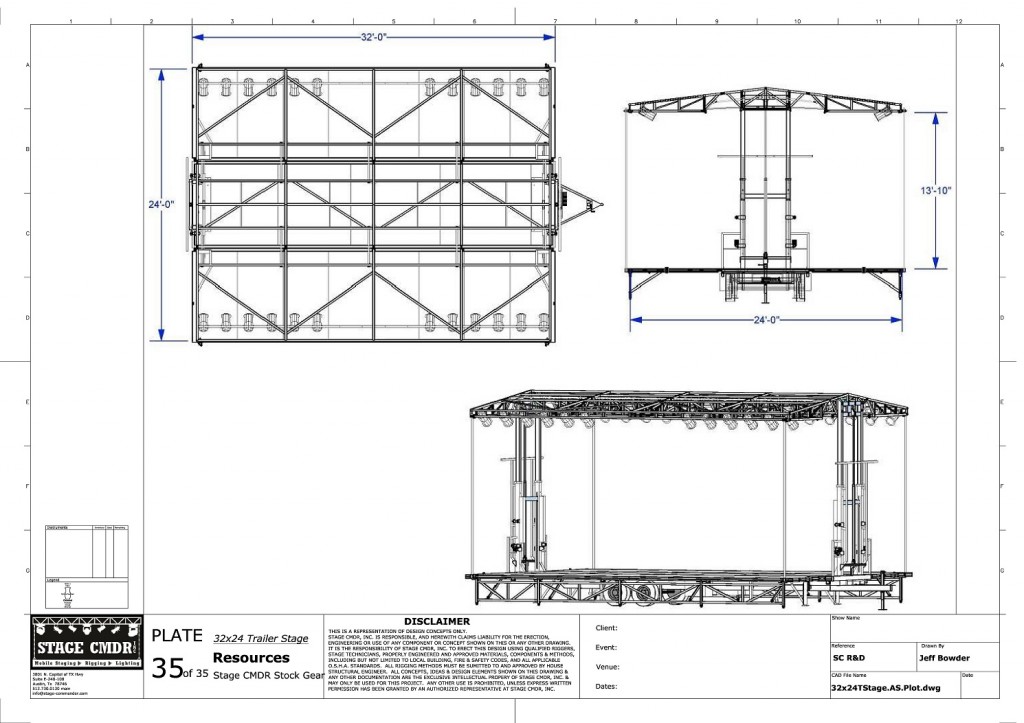 The Commander 32 - 32X24 MOBILE TRAILER STAGE PROJECTS