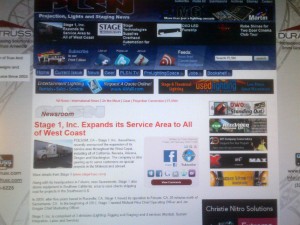 Stage CMDR, Inc. is making entertainment industry headlines by releasing a Press Release on its recent expansion on PLSN (Projection, Lights & Staging News) web site & newsroom. CLICK HERE TO SEE THE PRESS RELEASE
PLSN is the entertainment industries most read publication both for print and online viewing. Its read and viewed by everybody in the industry from directors & coordinators employed at all types of venues, to roadies & production managers, to employees of production, lighting, sound, video, & staging companies, all across the United States & abroad.
The publication is a great source for not only industry news and events, but also new equipment reviews & industry stories/write ups.
"With the aid from such a great media publication, our expansion & presence will reach many other industry professionals all over the country." – CMO Jennifer Grogan