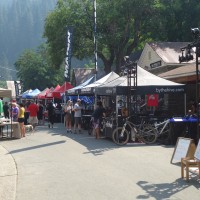 For the last 7 years, Stage CMDR, Inc. has been a gold level sponsor for the Downieville Classic "All Mountain" World Championships mountain bike race. All proceeds from the race go towards the Sierra Buttes Trail Stewerdship which maintains all the trails in and around the Sierra Buttes Mountains.
The Downieville Classic attracts more then 5000 spectators from all around the country. Saturdays cross country race hosts over 800 racers ranging from Pro to Beginner classes. It's a 27 mile point to point race where in the 1st 7 miles you climb over 3200′ in accent and then you traverse over to the downhill portion which is over 17 miles of 5600′ in decent over the more treacherous terrain known to man. Sundays race consist of the downhill portion only and racers who are in the "All Mountain" category race both races on the same bike. Fastest time wins. This area and this race have been getting nation wide press over the last 2 years in the cycling/mountain bike communities & industry.
In addition to all the races and special activities, is the Saturday night concert. Stage CMDR not only provides lighting for the entire expo area, but also for the Main Stage.
"We are proud to be a long time sponsor of this of this exciting unique sporting event with proceeds going towards the trail stewardship. Each year we surprise them with something different & it's a pleasure working with the promoters and their staff." – CEO Mark Davide
Each year Stage CMDR provides a different lighting design concept for the stage lighting along with the podium award ceremonies on both days. Because Downieville's power is very limited, this year Stage CMDR provided Black Tomcat Truss towers with Coemar Parlite LED Fixtures. For the expo surrounding areas, 14″ Scoops were plotted. They used black truss this year as apposed to silver so that the truss blends in more with the natural surroundings so its not as noticeable during the daytime expo use. This years band that rocked the dance floor like never before was Sacramento's own The Nibblers.   In previous years Stage CMDR has provided fully automated lighting systems "Moving Heads" and LED lighting.  There are talks of next next years concept to entail a 4 corner truss tower grid, connected in the shape of a square with automated lights for the stage lighting and more moving lights plotted on the grid to give the guest a club type feel during the show.  The same system would also be used for both podium ceremonies.

You can view more pictures from the race in the sites "Previous Projects" tab – CLICK HERE