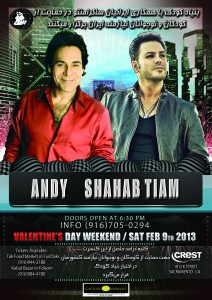 On Valentine's Day Weekend, Saturday February 9 World renowned Persian Pop Star Andy & Shahab Tiam performed at the Crest Theater in downtown Sacramento.
The concert was brought to Sacramento by a non-profit organization called Child Foundation. Child Foundation is an international charity organization that helps children living in poverty remain in school. The children sponsored through our programs are high achievers, and many of the children we assist are orphans or children living in emergency situations. By enhancing the quality of life for children in need, as well as their respective families, we actively help them gain access to education.
Stage CMDR was called upon to provide Special Effects equipment to enhance the lively atmosphere by the 1000+ attendees that came out to support the foundation as well as see Andy & Shahab Tiam perform.  Andy is very well known in the Persian community and has hit the mainstream market from being seen on Bravo TV's hit reality show Shahs of Sunset.